{{ notice }}
{{ warning }}

The AHEIA Calgary Firearms Centre
COVID-19 Operational Update
The AHEIA Calgary Firearms Centre operates an 80 acre Trap, Skeet and 5 Stand recreational shotgun shooting facility, which is open to the public year round.
Although we operate the busiest facility of its kind in North America, we haven't lost our focus of offering an enjoyable visit to shooters of all levels and abilities. We continue to work hard at growing interest in the shooting sports and work towards spreading the news of firearms use in a safe and responsible manor. We want you to enjoy your visit each and every time you and your family come to the facility.
Features & Rates
Rates
Trap
Member: $7.50 Non-Member: $11.50
Skeet
Member: $7.50 Non-Member $11.50
Sporting Clays
Member $7.50 Non-Member $11.50
Tower
Member $7.50 Non-Member $11.50
Double Trap
Member $15.00 Non-Member $23.00
Archery (Members Only)
Youth $3.00/day
Adult $6.00/day
Family (2+ Participants under one AHEIA Membership) $10.00/day
We also offer firearm rentals for $25.00/firearm. There are no bow rentals.
Amenities
10 Trap Houses
3 Skeet Fields
5 Stand Range
Olympic Trap Field
Club House
100' Duck Tower
International Skeet and Sporting Clays
Archery Range
All visitors to the CFC facility must watch the above video and sign a waiver before they are allowed access to the ranges.
*Important message from Youth and Women's Shotgun League Organizer Allan Orr*

Hi to everyone involved with the AHEIA Women and Youth Leagues at the Calgary Firearms Center.
In accordance with Alberta Health Services (AHS) CMOH-19, 2021, AHEIA has made the difficult decision to suspend Women's and Youth League play at the Calgary Firearms Center (CFC) until further notice. The attached letter from our President, Bob Gruszecki outlines the changes to the operation of the CFC, which were instituted over the past weekend. These restrictions will remain in place until notice is received from AHS allowing us to lift them.Please read through the attached document for a complete overview of our situation and what must take place moving forward.
As it affects us as shooters and coaches, there will be no more coaching allowed on the trap fields. An AHEIA volunteer or staff member may be present to ensure present safety standards are met, but will not able to be within two meters of the shooter or family member. Only individuals, family cohorts (those living together), or up to three persons living alone are allowed to be on a field together. Fields must be booked in half-hour increments and anyone who books a field must only arrive at the appointed time and leave immediately after shooting is completed. Socializing before or after shooting is not allowed. Fields can be booked through Taryn by calling her at (403)256-0665 after noon on Wednesday, May 19.
The length of these restrictions is unknown. If possible I will extend this session to get in our six weeks before starting the summer session. League fees that have been paid to the end of this session will cover this extension. However, if you would rather, we can hold the remaining fees over to the summer session. Alternatively, we can refund the remainder. The same goes for rounds and/or ammunition already purchased.
If you have any questions, please contact me directly at (403)319-2281.
Allan Orr
---
All Abilities Welcome
Including Those Who Have Never Held A Gun Before!
Welcome to the 2021 AHEIA Shotgun Leagues. This is an opportunity to learn something new, or improve on something you already know, and meet new people interested in the same thing you are! This year we will be offering three sessions starting in May and running through to September. Our first session will be May and June, followed by our second session in July and August followed by our fall session in September. Wednesdays are our league nights at the CFC. The Spring and Fall sessions start at 430 pm while our Summer session starts at 6 pm, but you may show up at any time! Each of these sessions will run independently and are open to all women or youth who wish to attend.
BONUS - Earlybird Shooting for the spring and fall sessions will start at 4:30 for those who can be there before 6:00. You can show up anytime after 4:30 and we will get you shooting. Arrive when you can, leave when you must!

Register Here
SPRING 2021 SESSION
May 5 – June 9
CANCELLED
SUMMER 2021 SESSION
July 7 - August 11
FALL 2021 SESSION
September 1 – 29
Pre-registration is not required but requested. To register, or for more information, contact the Calgary Firearms Centre at 403-256-0665 or the Calgary AHEIA office at 403-252-8474, or email info@aheia.com.
First-time shooters should arrive at the Calgary Firearms Centre by 5:30 on the first evening of your session.
Shoot Program
Major competitions with registered targets are held each year, as well as several less competitive "Fun Shoots". The schedule of these events can be found in the Shoot Program. We have parking for 250 and an RV, tent and tent trailer area. Shooting is year-round and includes league competitions, special training seminars and corporate events.
On behalf of all of us at AHEIA and the Calgary Firearms Centre, it is my pleasure to once again extend a warm welcome to each of you and the best of luck in the 2021 shooting season.
Download the 2021 Shoot Program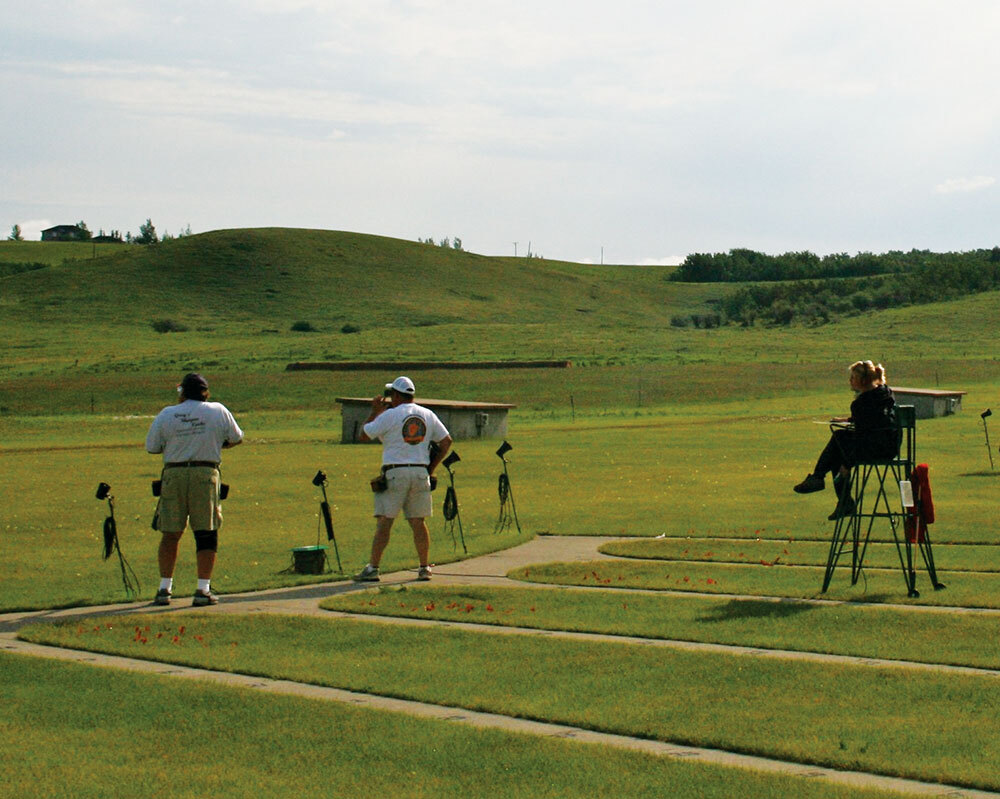 What is Trap?
The word "trap" refers to the usage of a trap in which a live bird was placed and released on command whereby an attempt was then made to shoot it. The earliest printed description of this sport was in February 1793 in England. It became one of England's most popular sports and migrated to the United States in 1831. The evolution of the sport replaced live birds with glass balls and then clay targets. The clay is called a "bird", and the machine which throws the bird is the "trap" and it is housed in a "trap house".
What Constitutes a Round of Trap?
A round for one person consists of 25 shots, five each from five shooting stations, the object being to score the greatest number of broken targets.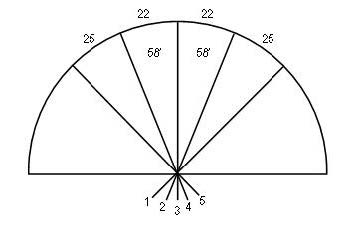 What is Skeet?
The term "skeet" refers to an old Scandinavian word meaning "to shoot". It stands for a competitive, target shooting sport that was invented in America in 1920 by several Massachusetts men who wanted to improve their aim before hunting season. Their system of simulating the flight patterns of live birds with hand-propelled clay targets began as a spirited game between hunters. Today, a modern version of that game has become an international sport in its own right for non-hunters and hunters alike. It is the skill and thrill of marksmanship that unites all skeet shooters.
What Constitutes a Round of Skeet?
A round of skeet for one person consists of 25 shots, the object being to score the greatest number of broken targets. The first shot scored last in any round shall be repeated immediately and the result is scored as the twenty-fifth shot. Should the first 24 targets of a round be scored as broken, the shooter shall take his optional shot, a low house eight only.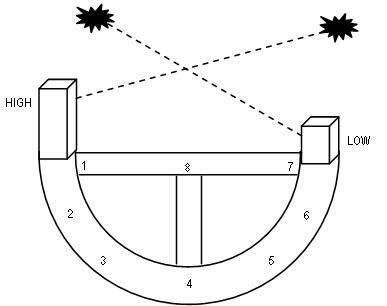 FAQ's
I've Never Shot a Gun Before ... Is this a Safe Sport for Beginners?
Membership at a centre such as this offers you the finest and safest means of learning to shoot from scratch. In addition to personal help from qualified coaches, a variety of local and regional clinics are held each year for the beginner and the advanced shooter. Rigid safety rules are enforced strictly at all times for your protection and the safety of others.

Is Shooting an Expensive Sport?
It depends on your personal objectives. You can have a life-time of fun and fellowship in a local club in return for a small investment in the shotgun of your choice, safety ear and modest ammunition costs.
On the other hand, if shooting all regional and national tournaments is what you prefer, then, like any other form of recreation, the costs can be as high as your ambitions and budgets will let them go.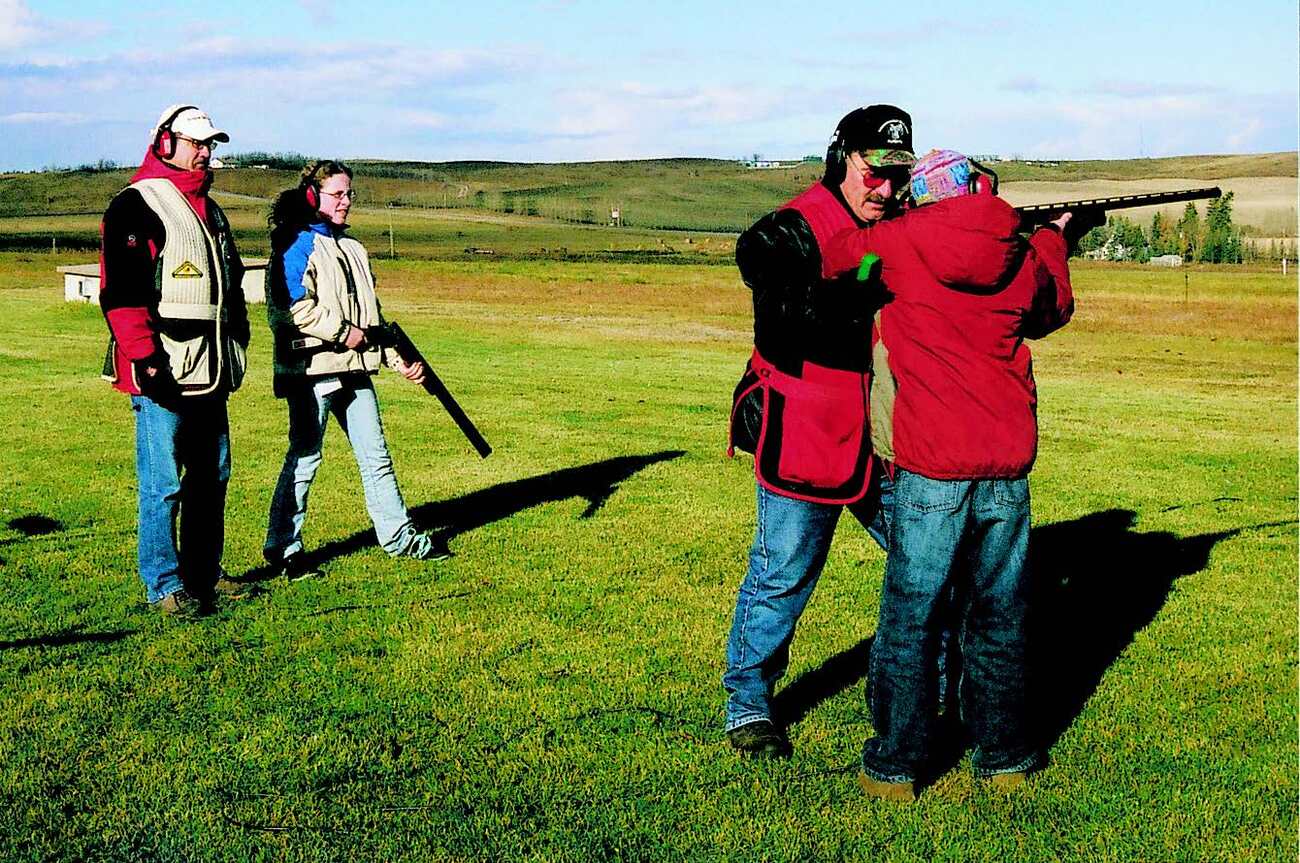 What Kind of People are Claybird Shooters? The Best Kind!
Men and women of all walks of life who believe in the safe handling of guns, who take pride in shooting well and who enjoy competing with themselves and others for prizes, self-satisfaction and self-achievement. In most clubs you will find a wide cross-section of wives, husbands, children and grand-parents alike.
Hours of Operation
Monday
CLOSED
Tuesday
CLOSED
Wednesday
12:00pm - Dusk (May 1 - September 30)
12:00pm - 6:00pm (October 1 - April 30)
Thursday
12:00pm - 6:00pm (Year Round)
Friday
12:00pm - 6:00pm (Year Round)
Saturday
12:00pm - 6:00pm (Year Round)
Sunday
1:00pm - 5:00pm (Year Round)