{{ notice }}
{{ warning }}
Your Corporate Membership for the Calgary Firearms Centre assures you and your guests the finest and safest means of learning to shoot.
1 Year Membership $1600.00
* Prices subject to GST (GST # 89334 6366 RT)
Up to 10 people per membership. Additional members can be added at $100.00 per person. Membership can be assigned to anyone, such as employees, customers, suppliers, friends and family. The primary corporate contact will be issued a membership card and is responsible for designating the use of membership.

Fees
Allows card holders to shoot at member rates on trap, skeet, 5 stand and sporting clays.
Discounts
5% discount at Pro Shop, including ammo.
Free use of boardroom once per membership year.
10 Free firearm rentals per membership year. A value of $250.00.
1 Free 1/2 day golf cart rental per membership year.
1 Free locker per corporate membership.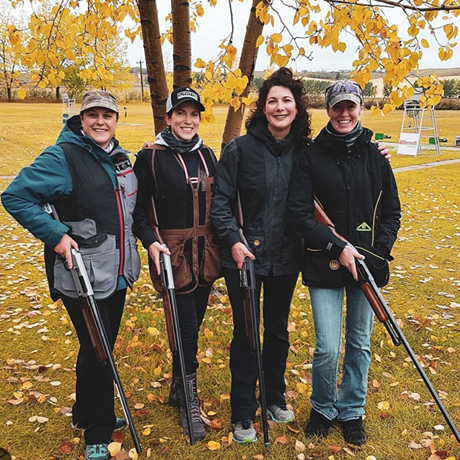 More great membership benefits
In addition to personal coaching from certified and qualified range officers/coaches, there are a variety of clinics held each year for the beginners and the advanced shooters.
Advertising
Receive your logo and a link on the sponsors page of our website.
Receive a sign on the back of the shooting bench or scorer's chair with your logo and a brief message.
1 Free 1/2 page ad in the annual Shoot Program.
AHEIA reserves the right to deny the content of the ad copy.
Banquet
2 Free seats to the annual AHEIA Banquet and WISE Awards in February of each year, a value of $230.00. Your company will also be listed as a program sponsor in the evening's program.
Coaching
1 Free Session with 2 coaches for instruction at group or special event on the range per membership year for up to 20 people.
Hours of Operation
Monday
CLOSED
Tuesday
CLOSED
Wednesday
12:00pm - Dusk (May 1 - September 30)
12:00pm - 6:00pm (October 1 - April 30)
Thursday
12:00pm - 6:00pm (Year Round)
Friday
12:00pm - 6:00pm (Year Round)
Saturday
12:00pm - 6:00pm (Year Round)
Sunday
12:00pm - 5:00pm (Year Round)